novaPDF, your powerful PDF creator
novaPDF is a PDF printer for Windows that allows you to easily create 100% industry-standard PDF files (searchable and optionally PDF/A compliant).
It's never been easier to print to PDF, you simply open your document, click on Print and select novaPDF as the printer to generate the PDF. Try it now and see how easy it is to create PDFs.
Outlook to PDF
By installing novaPDF you can convert your Outlook e-mails into PDF files. Simply choose novaPDF as a printer, select/open the email you want to convert and once you click the Print button you'll be asked where to save the PDF file.
Having e-mails in PDF format is an advantage when sharing them with other users and certain important e-mails such as invoices can be converted into a searchable PDF file and accessed at a later time when needed.
How Convert e-mails from Microsoft Outlook to PDF files
Microsoft Office Outlook is a personal information manager from Microsoft and it is available as a part of the Microsoft Office suite. novaPDF is installed as a virtual printer so you can create PDF files by simply printing to it instead of your normal printer. To convert e-mails from Microsoft Outlook to a PDF:
Download and install novaPDF on your computer if you haven't done this yet by accessing our Download page.
Open Microsoft Outlook and select (or open) the e-mail you want to convert to PDF
Go to File->Print (or press Ctrl+P) and select novaPDF in the Printer section
In the Print style section you can choose between Table style or Memo style:
a. Table style: If this is selected, a list of all the emails shown in the current view will be printed in the PDF
b. Memo style: The content of the selected e-mail will be printed
Before creating the PDF file you can also customize the page by adjusting novaPDF's settings from the Settings button
Click on Print and choose the location where you want the PDF file to be saved.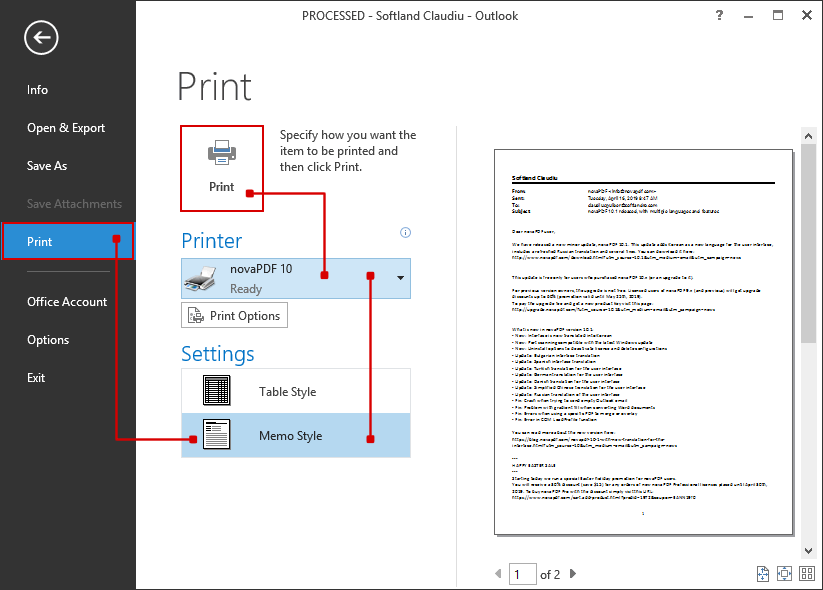 {.center}
If you have a different email client and want to see how you can convert emails to PDF you can read this article:
Convert emails to PDF